In 1954, the Jones family gained ownership of Grinnell State Bank. The first advertisement was a newspaper ad that stated, "The nearest postbox will serve as a teller's window". This informed customers of the convenient banking option of mailing their deposits as another alternative to coming into the bank. It has always been important for us to have convenient banking options for consumers, but boy have times changed! Not too many people use snail mail anymore, let alone mail a check for a deposit. (Although that option is still available.)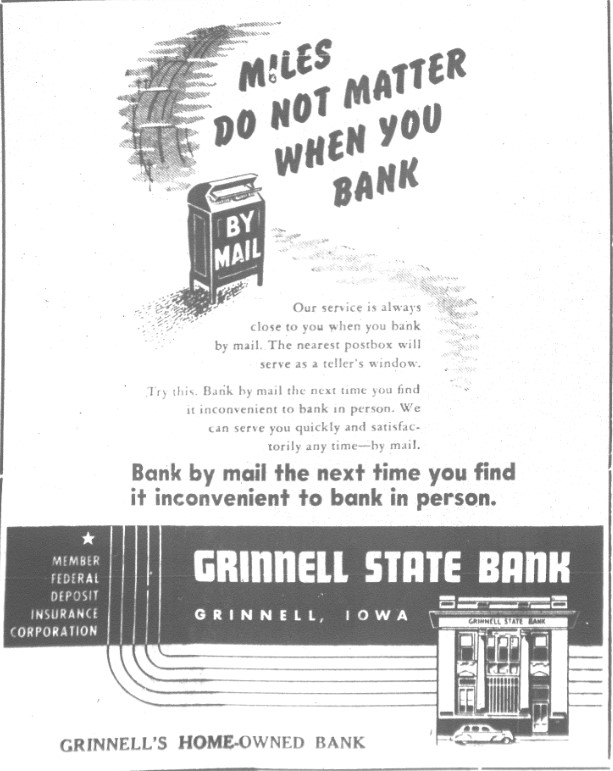 Today, in 2018 there are several ways to advertise in addition to newspapers and radio. Grinnell State Bank is keeping up in this digital age with our presence on Facebook, Twitter, Instagram, and LinkedIn. We have ads on social media platforms as well as newspaper ads, on the radio, on our website, and on our own ATMs. We encourage customers to set up direct deposit or automatic payments online, check their balances via Telebanking, online or mobile banking, and have the option to deposit checks from their OWN cell phone! Times and technology have changed, but a few things have not. Our exceptional customer service and loyalty, competitiveness, up-to-date and convenient options, and community involvement.
As we keep up with the technological times, we are offering phone support on Saturdays from 9:00 AM until 12:00 PM starting July 7th, 2018, as the lobbies and drive-ups in all four of our bank locations (Grinnell, Marengo, Johnston, and Polk City) will be closed on Saturdays. We offer so many convenient banking options that allow businesses and individuals to still do their banking themselves such as our full-service ATM that accepts deposits, withdrawals, and account balances; a night depository; mobile and online banking with bill pay and person-to-person pay; and more.
There is truly a minimal amount of services that need to be done in banks today. This is the future of banking and we are excited to support these options. Visit one of our locations, email us, chat online, or call us for assistance with your banking needs at the convenience of your home. We genuinely care, and we are here with you every step of the way. Grinnell State Bank wants to thank our customers, both consumer and commercial, for their support and loyalty throughout the years. We ask for continuing support as we strive to be genuinely local, and simply better.